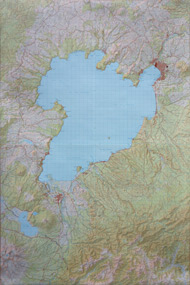 Example of four laminated Topographical map areas: BG35, BG36, BH35, BH36.
Maps and Charts
NZ Topographical Maps
NZ Maps
Marine Charts
Overseas Maps: Europe, USA, South America, Asia
Travel Guides
Globes
You can cut, join, and laminate two, four, or six maps together to create one larger map.
Below are the North and South Island Index sheets for New Zealand Topographical maps, click either thumbnail to view a larger version for your reference. Please state area code when ordering.